Quicklook at Human Resources
0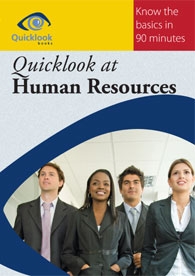 Price: £7.99
(including UK delivery)
Most of us get a job at some time in our lives. Work can consume many of our waking hours. It affects the quality of life in many ways.
Quicklook at HumanResources approaches this important subject from the perspective of the professionals who specialise in all aspects of employment procedure.
How is recruitment approached? What procedures are followed and what does the employer have to consider? How are pay and conditions decided upon? Careers develop over time- how is this process managed? How should training and personal development be catered for? What motivates people? What happens when things go wrong? What is the modern role of Trade Unions in the field of employment?
Some companies operate all over the world. How is this dealt with? Few businesses remain static throughout a person's working life. What happens when a business expands, contracts or is taken over?
What steps should be taken to avoid discrimination and make management choices fair?
What about careers in HR? How do you enter the profession?
Janet Tapsell draws on her vast experience to consider these questions and more. This short book on Human Resources (or ebook on Human Resources) is essential reading for those interested in the world of work.