Quicklook at Management
0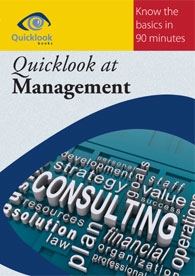 Price: £7.99
(including UK delivery)
Management affects us all, as employees, customers and members of the public. This short book on Management (or Ebook on Management) provides an up to date, thought provoking insight into how it works.
Every business or organisation needs to be run – in other words, managed.  It is vital to do it well but there is no single correct approach. Everyone is different and everything that has to be managed presents its own challenges. There are a great many different ideas about management.
Quicklook at Management covers all main areas of this very important subject.  Management is about people. There are varying ideas about what motivates them and the extent to which managers can and should provide leadership.  There are many leadership styles.  We learn about management theory and how it has been developed by leading experts, such as Jack Welch and Peter Drucker.
Management is also about organisation. Different structures are appropriate for different businesses.  We examine the main alternatives. The correct application of technology and the design of systems and processes is part of a manager's responsibility in most businesses.
Nothing stands still – management is partly about dealing with changing circumstances as markets develop and businesses move into new areas.
"Culture" is important. It can vary between organisations, as well as countries. Working within the right culture, or creating the right culture, can be important to success.