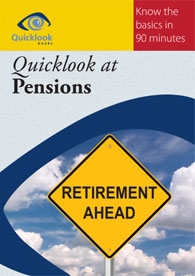 Price: £7.99
(including UK delivery)
This book is a must read for anyone concerned about a pension, or simply interested in the ways in which this vast industry affects all of our lives.
Most people rely on pensions for a significant part of their lives.  Until now, the subject has been forbidding. There are so many different types of pension, some private, some provided by the state. None of them are simple.  This layman friendly book covers this rather forbidding subject clearly.
The world of pensions and its many complexities has been badly served by most commentators.  All too often, anything written about it is too technical for the layman to understand, too narrow in its approach and/or comes with "spin". A lot of the available material is produced by those with some sort of financial product to sell. Quicklook at Pensions is not selling or spinning anything.
In all their aspects, pensions are of immense importance.  Immense sums are tied up in pension funds. They affect, and form part of, the huge, but bewildering, world of finance.  We see how they are structured and administered, who does what in the industry and get an insight into how money entrusted to pension providers is invested. There are a great many interesting careers in the sector- we see what they are.
All of the main types of pension (state and private) are explained in this short book (also available as an ebook).
There are many pitfalls for the unwary. Big, possibly life changing, decisions may have to be taken. Key things to think about are set out clearly.