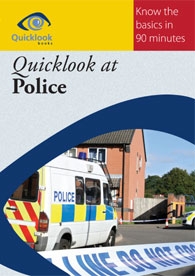 Price: £7.99
(including UK delivery)
Often taken for granted and sometimes criticised, the "thin blue line" has always faced great challenges and pressure to adapt to a fast changing world. Society depends on the police to protect people, property and our way of life.
This short book (and ebook) covers all main aspects of police work. We see how the police service developed, how political and social trends have influenced it and its relationships with the public.  Society is changing fast. It is no longer realistic- if it ever was- to think of "the public" as one group.
We examine the enormous range of tasks that the police are asked to undertake. These include crime prevention, detection and the prosecution process. There is responsibility for the protection of individuals, sometimes at vast events, or demonstrations- even riots. Emergencies, such as natural disasters, require police action.  Apparently routine activities, such as traffic policing, pose their own problems.
The different roles of uniformed and plain clothes officers are explained and the relationship between them is examined. There are many specialists in the police. We find out what they do.
The police have for many years been early adopters of technology. This continues to transform the way in which policing operates- we find out how.
There are many different police forces in the UK, ranging from the huge Metropolitan Police Service to much smaller county forces.  We see how they are structured, what the different ranks are and what officers at different levels do. The recruitment, promotion and training procedures are explained. There are many opportunities for careers in the service- many of them for civilians.
We get inside the system and see how police stations function over a typical day.