Quicklook at Television
0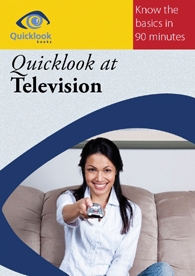 Television was one of the most influential creations of the 20th Century and is still developing rapidly. It has helped to shape and spread cultures. News broadcasts bring graphic images into homes. Entertainment stars depend on the exposure that TV provides. It is one of the world's biggest advertising platforms.
Grainy images have given way to High Definition, small black and white screens to huge colour ones and infrequent single channel offerings to the ability to watch hundreds of broadcasts from around the world.
Quicklook at Television provides an astonishingly wide insight into TV and the people and industry that creates and supports it. We move from early pioneers to the explosion of activity after World War 2.  A whole new art form was created and then transformed, in step with and sometimes leading changes in society as a whole. We look at the programmes and the stars that came- and often went, with bewildering speed.  Fortunes were made as huge new businesses emerged.
TV is a world wide phenomenon. It can be a cultural battlefield. Countries like the USA have been accused of too much dominance. TV's influence is undeniable and can be hard to control. We follow the ebb and flow of the many trends that have fired the imagination of millions and sometimes alarmed governments.
In the 21st Century TV is having to adapt yet again, in the face of the challenges and opportunities offered by the growth of the internet.