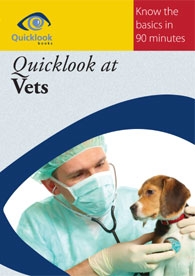 Price: £7.99
(including UK delivery)
Millions of us care for animals.  Man's relationship with them is varied and complex. The work of vets reflects this and covers an enormous number of species.
Quicklook at Vets provides a fascinating insight into how vets do their work and the astonishing way in which this is developing. All main aspects are covered in this short book (or ebook) from small family pets to farm animals and (sometimes very valuable) horses.
Find out what vets and veterinary nurses have to do to qualify. Get under the skin of a working practice. See what it does and how it is organised. What treatments are available? Are they affordable and justified?
What is the future of this fast evolving profession, which is so vital to our connection with the animal world?