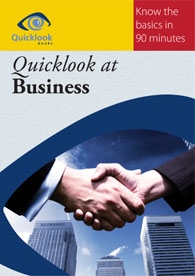 Price: £7.99
(including UK delivery)
This is the most comprehensive short guide to the business world that you are likely to find.
Business is vital to the way the world runs. It takes many different forms. This book on Business (or ebook on Business) explains what they are.  Businesses come in many different shapes and sizes. We look at the alternatives.
People make a business tick. The book explains all of the main roles in businesses and how they connect.  There are plenty of outside resources that can be used. The book explains what they are and how they can help.
The book explains the different ways in which money can be raised.
Business life is changing fast and we consider some theories of what works best and examine how different functions need to work together to generate success.
Quicklook at Business looks at examples based on real experience, which bring important issues to life.