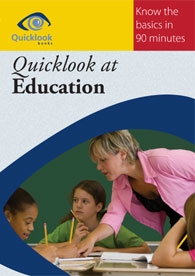 Price: £7.99
(including UK delivery)
Education equips people for life. It takes many forms. Vital in our early years, it continues to ripe old age.
Quicklook at Education covers all of the main aspects of this hugely important subject. It explains how people learn and the ideas behind the ways in which they are taught.
There have been many changes over the years. This book on Education (or ebook on Education) explains how education has developed and the different roles played by state and private sector institutions. The education sector represents a huge part of the national economy and is a major employer. The way in which it operates is of immense significance and political interest. As a result it is always controversial and almost never settled. Major new changes are currently taking place.
This short book explains the many different levels of the education system, from pre-school to top level degree courses. It shows how they relate to each other and covers the many options which exist outside schools and colleges.  The complex system of qualifications and the associated exams and tests are clearly dealt with.
There are many different types of school. Some have existed for 100's of years. Some new types of school have been formed in the last few months.
We learn how teachers and university staff receive their own training and the many paths into the teaching profession.