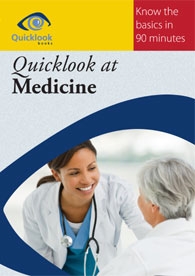 Price: £7.99
(including UK delivery)
Medicine is important to us all, throughout our lives. This short, easy to read, guide for the layman covers the main areas.
We learn about how the human body works. We see how the medical professions developed, from ancient beginnings through to the advanced and highly specialised world of modern practice. The main specialisations are explained and the roles of GP's, physicians, surgeons, nurses and other experts are clarified.  We look at alternative medicine and the drug industry.
Medicine is a vital and challenging profession. We discover how doctors and nurses train and qualify and how their careers can progress.
The National Health Service is well established, but constantly changing and often in the news. We see how it has developed and consider what might happen in the future.
Above all, medicine is about people and their health. We consider the doctor- patient relationship. We put you in the chair of a busy GP dealing with a challenging working day.
Quicklook at Medicine is available as a book or ebook.
"This book would suit anyone considering a move into medicine. …. It is also well placed for anyone wanting to gain a better insight into medicine and what it entails and covers".  The Nursing Times